Video – Landmark Lecture: Identity, Trauma & Reconciliation: A Conversation with Descendants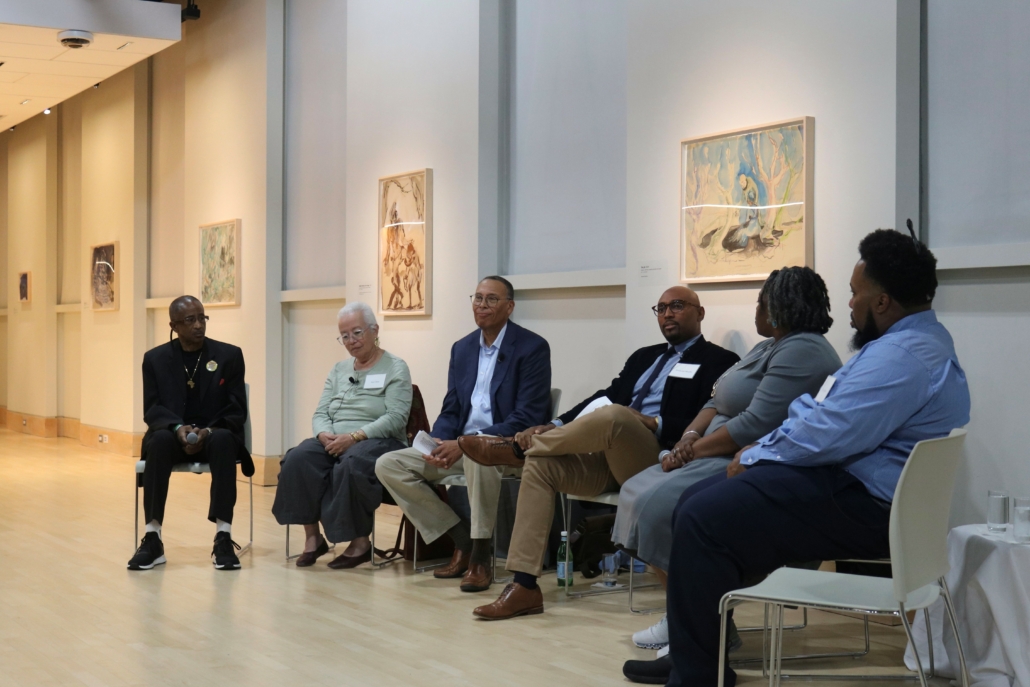 From left to right the guests included: Vincent Carter, Ann Chinn, Stephen Hammond, Frederick Murphy (facilitator),  Jerolyn Cole and Karl Haynes. Photo credit: Francesca Donovan.
Documentary filmmaker, Frederick Murphy, hosted a  conversation with descendants of enslaved individuals associated with Tudor Place and other historic sites with a history of enslavement on October 10, 2023. The event considered the vitality of descendant communities, intergenerational identity, historical trauma and reconciliation. His first film, the award-winning The American South as We Know It, explored the lives of survivors of Jim Crow and those didn't make the headlines. Mr. Murphy is the founder of History Before Us, and a graduate of Tennessee State University & Bethune-Cookman University with a masters degree in Transformative Leadership.
This event was presented with Georgetown's Art and Museum Studies Masters Program and held onsite at the Maria & Alberto de la Cruz Art Gallery at Georgetown University. All lectures are free and open to the public. Support for the Tudor Place 2023 Landmark Lecture Series is made possible through an Institute of Museum and Library Sciences (IMLS) Inspire! Grant for Small Museums. The views, findings, conclusions or recommendations expressed in this series do not necessarily represent those of the IMLS.
https://tudorplace.org/wp-content/uploads/2020/01/2020-01-23-300x155.png
0
0
Janet Wall
https://tudorplace.org/wp-content/uploads/2020/01/2020-01-23-300x155.png
Janet Wall
2023-10-26 14:59:16
2023-10-26 14:59:16
Video – Landmark Lecture: Identity, Trauma & Reconciliation: A Conversation with Descendants