Artist-in-Residence, Peter Waddell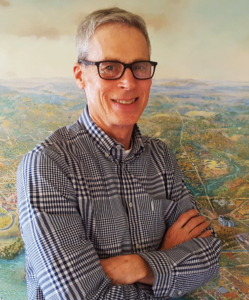 Peter Waddell was born in New Zealand. A child of vivid imagination, his ability to paint and draw was always encouraged by his parents. From his father, owner of a cabinet making firm and former soldier in Egypt and Italy, he gained his love of craftsmanship and fascination with the ancient world; from his mother, a theatrical costumer and librarian, his ability to create dazzling effects. After considerable success in New Zealand as an artist, Waddell came to Washington in 1992 to learn the secrets of the masters as a copyist at the National Gallery. Enamored with America and its history from the start, Waddell became a United States citizen in 2002. Waddell is Artist-in-Residence with a studio at Tudor Place. Read more about his artistic vision here.
History Painter
Best known for his paintings of Washington, DC history and architecture, Peter Waddell has created works about the Capitol in the nineteenth century and numerous  commissions for historic sites including Mount Vernon, Tudor Place, the Clara Barton Missing Soldiers Office Museum and the White House Historical Association. His contributions to the arts in Washington, DC were recognized in 2010 when he received the Mayor's Art Award.
In 2018 he completed two bird's eye view paintings of Washington, DC — one as L'Enfant had planned the city, and the other as the city existed in 1825. The paintings are on permanent view at The George Washington University Museum. Georgetown landmarks in the 1825 painting include Tudor Place and Robert Peter's tobacco warehouse. Read about the paintings here and watch videos below where Waddell explains details of the paintings.
Waddell's recently completed commissions include three paintings of D-Day and World War II for the Albert H. Small Normandy Institute. He is currently working on a painting of George Washington, Lafayette and L'Enfant picnicking at Great Falls in Paterson, New Jersey — to be displayed in the Visitor Center at the National Park there.
Smaller works can be seen at any hour on the streets of the city around the National Cathedral and in the Kalorama neighborhood, where Waddell has been involved in the Call Box Project, placing historical images on former police and fire call boxes.
The Birds Eye Paintings
Completed in 2018, a pair of large-scale paintings by Waddell offer historical details assembled for the first time. "The Indispensable Plan" shows the city that Pierre Charles L'Enfant envisioned, and "The Village Monumental" is a historically accurate depiction of Washington, D.C. as it was on July 17, 1825 — the day L'Enfant died. These are on permanent display at The George Washington University Museum.
L'Enfant's Plan for the White House
L'Enfant's Plan for the District
L'Enfant Planned State Neighborhoods