Craft: Painting Fireworks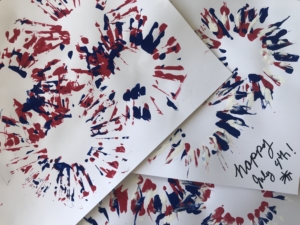 In the United States, we celebrate July 4th as Independence Day. On July 4th, 1776, the Continental Congress voted to adopt the Declaration of Independence. In it, the colonists explained why they wanted independence from England and formally stated their separation. Ever since then, Americans have celebrated the 4th of July with concerts, bonfires, parades and fireworks.
The Declaration of Independence begins, "We hold these truths to be self-evident, that all men are created equal, that they are endowed by their Creator with certain unalienable Rights, that among these are Life, Liberty and the pursuit of Happiness." However, it would take almost another hundred years until the passage of the 13th Amendment ended legal slavery in the United States.  Since 1776, there have always been people working towards equality for all. We're still working towards it today.
As you celebrate 4th of July with your family, bring fireworks indoors with this fun and easy craft.
What you'll need:
• Recycled paper towel or toilet paper rolls
• Paper Plates
• Scissors
• Paint
• A pen
How to create a fireworks painting:
First, draw a line around your recycled paper tube about 2/3rds down. Using scissors, carefully cut one half of the tube into vertical strips. Press it against the table so that the strips fan out and the roll can stand up on its own.
Add paint to each paper plate. You can do one color per paint or mix it up. Each paper plate should get its own paper towel roll, but if they get mixed up, that is OK too!
Press the paper towel roll into the paint, and then stamp it onto your paper. You can repeat as many times as you would like.
When you're done with your fireworks, hang them up on a wall for your own private show!
https://tudorplace.org/wp-content/uploads/2020/01/2020-01-23-300x155.png
0
0
Janet Wall
https://tudorplace.org/wp-content/uploads/2020/01/2020-01-23-300x155.png
Janet Wall
2021-06-25 16:19:53
2021-06-26 13:06:45
Craft: Painting Fireworks