Mark Hudson Appointed to Lead Tudor Place Into Its Third Century
FOR IMMEDIATE RELEASE
July 27, 2015
contact: Mandy Katz
Tudor Place is pleased to announce the appointment of Mark Hudson as the museum's next executive director, commencing October 5, 2015, on the cusp of the National Historic Landmark's bicentennial year. Mr. Hudson succeeds Leslie Buhler,
who is retiring after 15 years of extraordinary leadership during which she established Tudor Place — first opened to the public in 1988 — as a noteworthy contributor to the nation's historic and cultural life.
"Mark brings to the position extensive professional experience, a strong academic background, and remarkable enthusiasm for the future of Tudor Place," said Geoffrey B. Baker, president of the Tudor Place Board of Trustees.  Mr. Hudson comes to Tudor Place from the Vermont Historical Society, which he has directed since 2009.  The Vermont Historical Society is a multifaceted statewide organization encompassing a museum and substantial collections, a genealogical research library, a biennial state History Expo, the Vermont Women's History Project, and a publishing arm.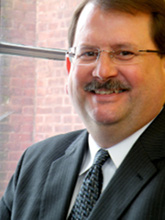 "I have for a number of years been following the activities at Tudor Place, particularly with respect to the care of its extraordinary collections," Mr. Hudson said of his appointment. With respect to the Master Preservation Plan and Bicentennial initiatives underway, Mr. Hudson noted, "having the opportunity to lead Tudor Place as it embarks upon these ambitious endeavors is amazing."
Mr. Hudson looks forward to bringing to fruition the plan to secure Tudor Place's historical and cultural assets for a new century. "As I have learned more about this historic treasure," he noted, "my enthusiasm has grown. The museum's master plan reflects a bold vision that demonstrates a commitment to the preservation and interpretation of this nationally significant site," he said.
During Mr. Hudson's tenure, the Vermont Historical Society received the 2012 American Association for State and Local History's Leadership in History Awards for the History Explorer website and the publication, A Very Fine Appearance: The Vermont Civil War Photographs of George Houghton. His work at Tudor Place marks a return to our region, as he directed the Historical Society of Frederick County, Maryland, from 1998-2009. During his term there, the society secured accreditation from the American Association of Museums (in 2003) and received the 2005 Small Museum Association's Hunter-Burley Award for advancing public access and professional growth in an individual institution. Early in his distinguished career, Mark was curator of the Boone County Historical Society in Missouri, his home state.
Mr. Hudson's other professional and civic commitments include, since 2010, chairing the Vermont Civil War Sesquicentennial Commission by gubernatorial appointment. He served six times as a Museums for America field reviewer for the Institute for Museum and Library Services. His Board service includes the Save Historic Antietam Foundation (2006-2009) and Maryland Association of History Museums (1999-2005).
Mark was selected by Tudor Place Trustees following an extensive national search conducted by a firm specializing in museum placements.
https://tudorplace.org/wp-content/uploads/2020/01/2020-01-23-300x155.png
0
0
Comms2018
https://tudorplace.org/wp-content/uploads/2020/01/2020-01-23-300x155.png
Comms2018
2015-07-27 12:03:09
2020-07-30 13:48:13
Mark Hudson Appointed to Lead Tudor Place Into Its Third Century