APGA Garden Cognoscenti Visit Tudor Place
Think of it this way — a group of famous interior designers stop by to check out the inside of your house.
Tudor Place had the garden equivalent on June 20, when the national conference of the American Public Gardens Association came to town, and a breakfast tour of the Tudor Place gardens was on the agenda.
The steamy heat scared off some of the would-be wanderers, but it takes a lot to deter horticulturists who are used to working outdoors in all seasons.
Director of Buildings, Gardens & Grounds Josh Meyer gave an introduction to the historic garden, with stories of the varied ways the spaces were used by six generations of the Peter family.

Here the group is standing on what was once the long entrance driveway for horses and carriages.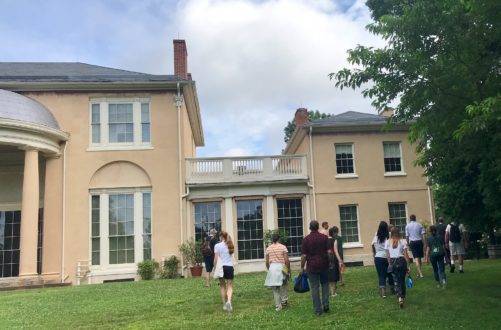 Touring the North Garden with its series of garden rooms, like the Box Knot studded with roses and lavender.
Then on to the sloping South Lawn, passing the Conservatory where the citrus trees, clivias and cycads spend the winter.
Tudor Place was proud to be an APGA Conference Partner for the gathering of 1,100 staff from public gardens around the country.
Tudor Place gardeners weren't the only ones prepping for the scrutiny of their horticultural peers. Find out what Josh Meyer, and the heads of other local gardens, told Washington Gardener magazine about how they got ready for the big APGA week.
0
0
Comms2018
https://tudorplace.org/wp-content/uploads/2020/01/2020-01-23-300x155.png
Comms2018
2019-07-10 12:02:10
2020-07-30 10:32:45
APGA Garden Cognoscenti Visit Tudor Place