Craft: Summer Solstice Monoprints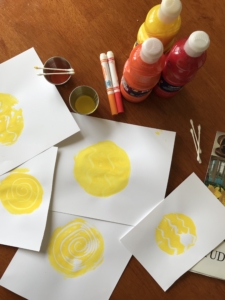 The summer solstice is the longest day of the year and the official first day of summer in the Northern Hemisphere. This year, summer solstice is June 20th. Washington DC will have almost 15 hours of daylight between sunrise and sunset. People all over the world celebrate the summer solstice and have for hundreds and hundreds of years.
In your summer solstice observations design a monoprint to celebrate the extra sunshine. Monoprints are a way of making prints that can only be used once – which means you have plenty of opportunities for creativity.
Watch the video below to see how to create your own sunshiny prints.
What you'll need:
Paper (a heavier weight is better, but printer paper is fine)
Paint (we suggest yellow, red or orange)
Paint brushes
Q-tips
How to create a sunny monoprint:
First, load your brush with paint and paint a circle on your paper. Next, drag a Q-tip through the paint to create your designs. You can always add more paint or smooth it over with the paintbrush to restart.
When you are happy with your design, gently lay a second piece of paper on top of your paint. Very gently pat the top paper to transfer the paint. Lift the paper off and check out your print. It's OK if your print isn't perfect. In fact, it probably won't be. Add rays or other decorations using paint or markers. You can repeat as many times as you would like by adding more paint to the first piece of paper.
When you are done with your monoprints, hang them individually or string them together to make a banner.
https://tudorplace.org/wp-content/uploads/2020/01/2020-01-23-300x155.png
0
0
Janet Wall
https://tudorplace.org/wp-content/uploads/2020/01/2020-01-23-300x155.png
Janet Wall
2021-06-11 11:42:39
2021-08-27 18:16:11
Craft: Summer Solstice Monoprints