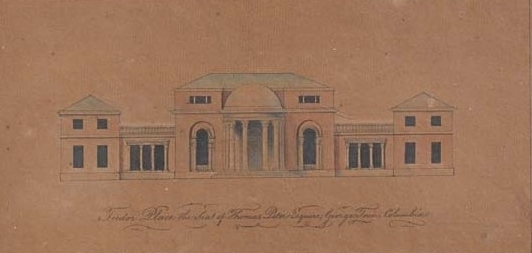 Members: Free | Non-Members: Free
William Thornton, architect of Tudor Place, and his wife Anna Marie Brodeau Thornton came to Washington, D.C. from Philadelphia in 1793, seven years before the federal government's move to the city in 1800. Between 1800 and 1805, three experienced and talented artists–Gilbert Stuart, Robert Field, and Charles Balthazar Julien Févret de Saint-Mémin–also arrived in Washington, planning to fulfill or seek new commissions for portraits. These three artists made several portraits of the Thorntons during their few years here. Some years later, William Thornton sat to Rhode Island artist Charles Bird King, who made Washington his permanent home in 1819.
In an illustrated lecture, Ellen G. Miles, Curator Emeritus of the Smithsonian National Portrait Gallery, will discuss these portraits in detail. They document the Thorntons' appearances in different mediums, and thus they offer an opportunity to compare the styles and interpretative abilities of four quite different artists.
You will be sent a link to Zoom with instructions, meeting ID and password via email one day before the event.
Presentation Drawing
William Thornton, Georgetown, circa 1808-1816
Paper, watercolor, wood, gilt
Collection of Tudor Place Historic House & Garden
Papers of Thomas & Martha Peter, Tudor Place Archive
Photograph by Bruce M. White, 2015.