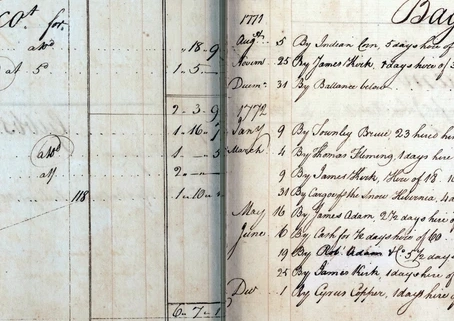 Account books detail a wealth of information and often reveal insights into the lives of the marginalized members of a community. Molly Kerr, founding director at History Revealed, Inc., will discuss what store and personal ledgers reveal about the enslaved community in and around 18th century Alexandria, VA. History Revealed is a non-profit focusing on researching and interpreting the American past. Ms. Kerr holds a Bachelor and Masters degree in Anthropology from the University of Mary Washington and the University of Arkansas.
Members: FREE | Non-Members: FREE
Note: This program will be held LIVE at Tudor Place and  virtually. Click here for more information about Tudor Place's health & safety guidelines.
In-Person Registration Link: Click here.
Virtual Registration Link: Click here.  You will be sent instructions on how to access the virtual event one day before the event.
Support for 2023 Landmark Lecture Series was made possible with an Institute of Museum and Library Services (IMLS) Inspire! Grant for Small Museums [IGSM-249243-OMS-21]  
The views, findings, conclusions or recommendations expressed in this lecture do not necessarily represent those of the IMLS. www.imls.gov.